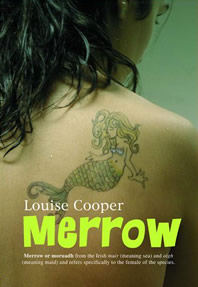 MERROW
Published by Hodder Children's Books in their Bite imprint
ISBN 0-340-88145-3
£5.99
'Strong, lively writing combined with a page turning plot line to make a compelling teenage read.' (The Bookseller)
The girl gave another twist. Her arms flailed high out of the water; one hand, splay-fingered, clawed savagely at Kiran's eyes; the other clamped on to his ankle and pulled...
Then Kiran lost his grip and pitched headlong into the sea...
'Merrow' is an old word for a mermaid. But the merrow in this chilling story is a figment of Cornish surfer Kiran Mason's imagination, a personal ghost he has created in an attempt to exorcise the guilt that haunts him after a beach rescue goes tragically wrong.
At least, that's what his friends Jay and Robyn believe, and as Kiran's obsession deepens they are desperate to bring him to his senses and make him see the truth.
But the truth might be a great deal stranger than any of them imagines…