THE SEA HORSES QUARTET
Also available from Puffin is the exciting and highly successful Sea Horses series. It follows the adventures of Tamzin Weston, who is sent to live with her Nan in Cornwall for a year while her parents are away in Canada. Tamzin soon makes friends with Joel, whose family runs a nearby riding stable. But before long, Tamzin and Joel are drawn under the spell of an ancient tale—the legend of the Grey Horse, an evil spirit from the sea.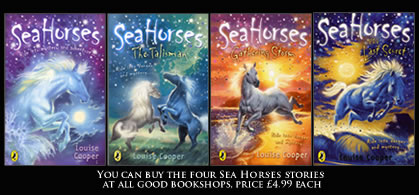 For centuries the Grey Horse has been looking for a way to return to the world; and when Tamzin unwittingly gives it its chance, the beautiful and dramatic coast suddenly becomes a place of danger. If they are to defeat the evil spirit, Tamzin and Joel must unravel the mysteries of the distant past. It seems an impossible task. But a very special pony called Moonlight might hold the key…
'Another brilliant children's book from Louise Cooper' West Briton
'A superbly imagined and beautifully written fantasy' Northern Echo
'Mysterious and spooky' Cork Evening Echo
'A fascinating read' Junior
You can buy the four Sea Horses stories at all good bookshops, price £4.99 each.
Book 1: Sea Horses
Book 2: The Talisman
Book 3: Gathering Storm
Book 4: The Last Secret
And to whet your appetite, you can read a 'taster' from Book 1 here, and find out how Tamzin's troubles begin...