MERMAID CURSE
DIVE INTO A WORLD OF MYSTICAL ADVENTURE...
The Silver Dolphin and The Black Pearl, books 1 and 2 of my new children's quartet, are now in the shops!
Mermaid Curse tells the story of Lizzy Baxter, an adopted girl who discovers the astounding truth about her real identity, and embarks on a dangerous quest beyond her wildest imagining. Like my earlier Sea Horses quartet, Mermaid Curse is set in Cornwall—from the bustle of a busy fishing port on the shores of Mount's Bay to the magical tranquility of the Isles of Scilly...and the mysterious undersea world that lies between.
The four Mermaid Curse books are published by Puffin at £4.99 each. Click here for a 'taster' chapter from The Silver Dolphin...
On this page you can see the stunning covers created by renowned artist Zdenko Bašic.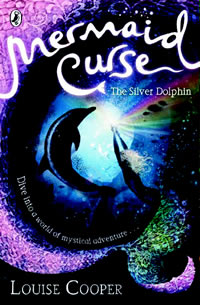 MERMAID CURSE 1: THE SILVER DOLPHIN
ISBN 978-0-141-32225-4
'We're under the sea. We're breathing! I'm not dreaming, or drowning—this is REAL'
Lizzy Baxter is thrilled when her family moves to Cornwall—she's always loved the beach. Lizzy doesn't realise, but she has a special connection with the sea—and the mystical mermaids and silver dolphins who swim there.
But there's much more to the beautiful blue-green world than magic. The evil mermaid Queen is plotting to steal something precious—something that belongs to Lizzy…
MERMAID CURSE 2: THE BLACK PEARL
ISBN 978-0-141-32226-1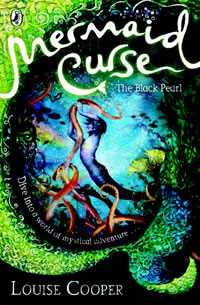 'We will show them what becomes of anyone who dares to disobey our Queen!'
Lizzy has always known she was adopted. But since her family moved to Cornwall her world has turned upside down and a beautiful shade of blue-green. By chance, she discovered Kes, a brother she never knew existed, and the incredible truth about her birth mother...
Now Lizzy and her new family must battle the evil mermaid Queen and her terrifying servant. For Lizzy has a powerful treasure and the Queen will stop at nothing to get it...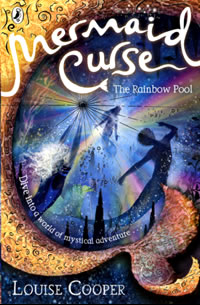 **To follow in June 2008**
MERMAID CURSE 3: THE RAINBOW POOL
ISBN 978-0-141-32227-8
'When the circle is completed, all power shall be mine!'
Taran, the evil mermaid Queen, is determined to get her hands on the silver pearl that will make her more powerful than ever. Only Lizzy, Kes and their friends from the undersea world can stop her.
But when Taran takes a very special hostage, Lizzy and Kes are faced with a terrible choice. Must they give up the precious pearl? Or do they have the courage to challenge Taran, and defeat her?
AND THE FINAL STORY IN OCTOBER 2008...
MERMAID CURSE 4: THE GOLDEN CIRCLET
More details to follow soon...